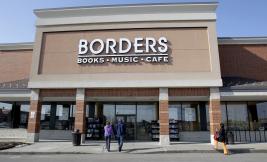 News of Borders Bookstore Closing
I heard the news tonight about the Borders bookstores closings. They are filing for bankruptcy and closing nearly a third of their bookstores, starting with the super stores. They plan to close my favorite bookstore in the county at
2683 Gulf to Bay Blvd., Clearwater, FL
.
This news is very sad. One of my favorite past times is to browse the bookshelves at local bookstores. I have a few favorites; Borders, Barnes & Noble and Books-A-Million. Although they all have similarities, the Borders store on Gulf to Bay was my favorite. It had the largest interior space, largest selection and the best coffee shop. I have purchased more books from this store than any other in the area. It is a pity to see it go.
Is the Economy the Reason for Borders Bookstore Closings?
I have to admit that my book buying has suffered from our down-turned economy. I continue to buy books despite a tightened budget but the length of time between purchases has increased. Evidently, I am not alone.
When the free hours of the day or night arrive, I will sometimes head off to the bookstores. With or without a purchase, it is a satisfying exercise. Browsing with a coffee in hand is a treat. The Borders on Gulf to Bay has the best atmosphere for such an outing.
I will miss the store and feel as though something I owned a part of has been taken away.
Are Digital Books the Reason for Borders Bookstore Closings?
It will be a sad day indeed if books are no longer sold in paper form. Digital reading delivers information. Owning a book that you can hold in your hand offers a far greater experience. It is something not only to read but to have and to own. That is something digital media cannot deliver.
I will go to Borders tomorrow for my official farewell visit. I will have my final coffee and offer a toast to the store. I will also toast to a future where our economy recovers and we will not see a city filled with empty storefronts. Lastly, I will toast to the paper book, offering my wishes that we are not the last generation to see it.
What Tampa Bay On-Line had to say about the closings
.